Fishing Trips.......
4/20/05 Key Dam
Sunny, no cloud cover.  Temperature around 65-70.  Light wind.
Decided to put the swamp boat in at Key Dam for a little afternoon fishing.  Started out fishing a jig, but didn't have any luck.  Switched over to a zoom pumpkin seed with chartreuse tail and was able to catch these two small large mouth bass.
<![if !vml]>
<![endif]><![if !vml]>
<![endif]>
5/8/05 – Claytor Lake
Well for Mother's Day, I took Denise fishing!  She laid out on the back of the boat and said she found it very relaxing!  Temperatures were in the mid 70's and a completely clear sky.  Very little to no wind.  Water was stained.
I began fishing a PJ's jig with Joe's trailer, but didn't get any hits on it.  Also tried to throw a Rapala deep runner with no luck.  I then decided to try a creek right beside the road that we had crossed earlier.  It's right beside the bridge.
I fish down the road side of the creek and got no bites.  While turning around in the creek, I noticed lots of bluegill around.  Where there is bluegill, there is bass!  By this time, I was fishing with a zoom u-tale plastic worm.  Color was pumpkinseed with a chartreuse tail.  I was able to catch this little guy right up against the bank.
<![if !vml]>
<![endif]>
I didn't get anymore bites at that spot so I decided to move on.  There is an old dock near the end of the creek.  After trolling past that, I saw two bass right on the bank in shallow water.  It seemed as if the bass were guarding their nest.  I threw my lure right on top of them and both bass didn't pay any attention to it.  I kept dragging the lure and when it was about a foot away from the two bass, something big nailed it!  I set the hook and fought this fish for a good 3-4 minutes.  Biggest bass ever………….so far!
<![if !vml]>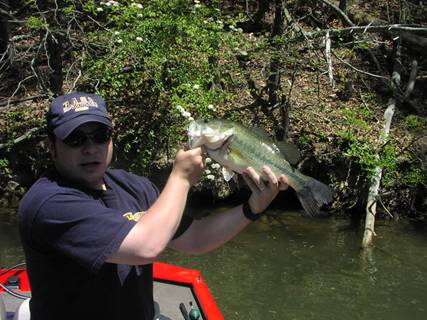 <![endif]><![if !vml]>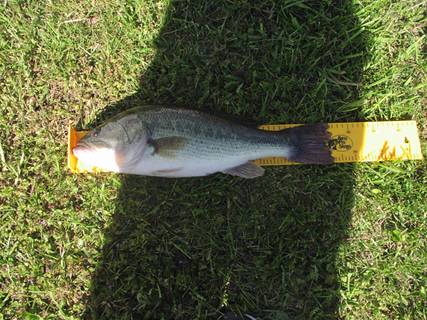 <![endif]>
<![if !vml]>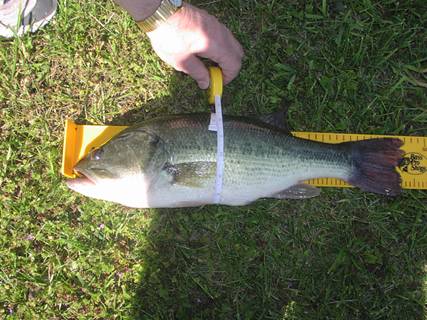 <![endif]><![if !vml]>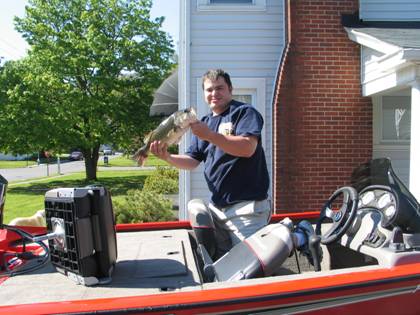 <![endif]>
<![if !vml]>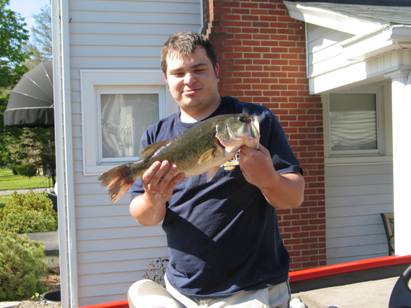 <![endif]>
Lot's of pictures!  The other two bass were still on the bank, but I continued to fish for them for about another two hours and could not get them to budge.  It was very interesting watching them though.  You could see little bluegill swim up and then the male bass would chase them away.